So you might be wondering who we are? What's the name Polka Dot Data all about? Why should you care?
Well, it's time for me to enlighten you…Welcome to our story!
First, meet Anna and her trusty cup of tea. She's a small but fiery woman with a mission to get everyone using web analytics to make their businesses super successful. Like reeeeally successful. She wants you to achieve.
She wants you to be that business that saw a piece of data and thought, holy moly, if I can change this one metric my profit from this alone would be in the thousands!
Because that's how amazing web analytics can be, but most people don't realise its hidden powers.
Having helped numerous clients from within a digital marketing agency but wanting to do more analytics and less SEO & PPC, she went in house at a global ecommerce company to further exercise her analytics prowess. But her dream to help more than one business make serious revenue was not being achieved, so it reached crunch time…
Cutting the imaginary red ribbon of Polka Dot's doors, Anna decided to (and succeeded) to help her clients make their wildest revenue dreams come true!
But why Polka Dot Data? Well, Anna knew from the beginning that she wanted to build a team of experts around her, so instead of going with brand name of "Anna-Lytics" as everyone was suggesting, she decided to come up with what felt like a much stronger brand name. After hours of brainstorming, many terrible adjectives, metaphors and searches on 123 Reg… Polka Dot Data was born!
Polka Dot Data – Joining the dots in website data
Word that Anna was back in the analytics game and working for herself quickly spread, and clients were coming thick and fast, so within 6 months she was looking for support to help grow the business and help more clients gain better analytics data. It was time to turn Polka Dot Data from a solo enterprise to a full on analytics agency!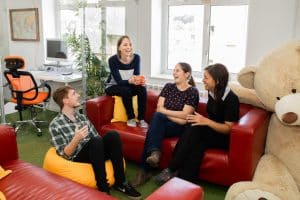 We started with some trusty sub-contractors and then the first full time employee Cameron in 2017, who was subsequently joined by Hannah and then Charlotte in 2018. The hunt is continuing for more talent and various sub-contractors / partners in business are brought in depending on the needs of each project. Working together with old colleagues, industry friends and newly found business development superstars has enabled us to thrive and provide great results to big name brands.
In our first 2 years of business we had the pleasure of working with brands such as:
Hippo Waste
Tenpin Bowling
Huel
Silverstone
Traeger Grills
and many more!
And some great digital marketing agencies who want to get the best analytics support for their clients:
Erudite
Koozai
Uprated
Reddico
and more!
Check out what they have to say about their experiences working with us on our analytics client testimonials page.
If you're tempted to be one of this elite gang of companies with a top notch analytics implementation, heading towards bigger and better business success, we're only a phone call away.
Book your consultation call today through this handy form and we will be on the phone with you in no time, ready to get you started! And watch this space for the next steps in our journey!