We've helped plenty of e-commerce businesses just like yours to make changes to the way they collect and analyse their website data which gets BIG results. If an increase in profit of £300,000 in just three months sounds like your kind of thing, then let us help you get down and dirty with your data.
With over 10 years of experience helping e-commerce businesses grow, our expertise spans writing for publications, speaking at events, training hundreds of beautiful analytics nerds, fixing messy data and, of course, making you more money. And we love every minute of it.
If you're as passionate about analytics as we are then, you know, we'd be good together.
The Team
Our small but beautifully formed team of analytics wizards are all about effort. We tweak, test and turnaround your data collection so that you're collecting analytics that are useful to you and aligned with your sales goals. Otherwise, what's the point?
We spend time getting to know you and your business so that we feel like part of it. Our team, is your team. It's a thing of beauty.
See what our clients have to say about the difference we make.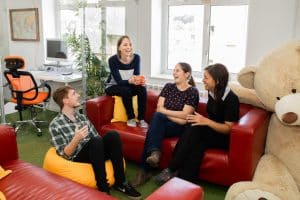 Our Ethos
We believe in speaking plain English. No jargon, no bamboozling you with big words, no confusion. Just shit-hot analytics data you can trust, practical help and the sales results you want.
It really is that simple. Our team are always happy to help when there's something you don't understand and we're always on-hand to dish out the tea, biscuits and sympathy when you get the (inevitable) analytics Armageddon headache. It's a thing.
It's our mission to make your analytics life as simple, and profitable, as possible.
Discover how we can work together to get you packing a punch with your profits.
View our range of Analytics training and audit services, or call for a chat about your Analytics needs.